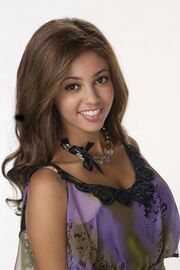 Isabella "Izzy" Dooley is the older sister of Leo Dooley. She is in college but dropped out.
Season 1
[
]
Izzy Dooley was introduced as Leo's older sister, who is 18-year-old and a student at Welkerville University. She is a freshman and lives in the dormitory.
Section heading
[
]
Izzy helped Leo multiple times on bionic missions. When Leo and Izzy travel to the future to save the labrats, Izzy and Leo teamed up with their future selves to save them. Izzy's memorable line was when Adam revealed in the note "Sorry, we've got blown up!" Izzy said: "He needs to work on his grammar." Leo and Izzy were trapped in Davenort's new car. Also, in Bionic Showdown, when Mr. Davenport and the labrats were captured by Davenport's evil brother, Douglas and Marcus, Izzy and Leo teamed up with Eddy to rescue their family. In Rise of the Secret Solders, Izzy quits the Lab-rats team after Donald gets injured by Krane in a battle, due to her life-changing over the Lab-rats new mission.
Quotes
[
]
"Oh, Man. That's terrible. If your gonna be disintegrated, can I have your room?"
Chase: "You kissed me!"
"Yeah, not my finest moment."
Chase: "I bet my family's tracking us down as we speak."
Troy: "And when they do, I'll take them out."
Izzy: With what, your ponytail? Puh-Lease!"
Troy: "She's really annoying."
Chase: "Tell me about it."
Izzy: Oh, knock it off!"
Troy: Abs of steel, brah! Literally.
Izzy: Ah! He's not kidding, his abs are made of steel! That's something!