Story
When Adam,Bree,Chase,Leo,Hallie,Elena,Sara,Dilli, Zax, and Mark need help fight against Krane's Bionic Army Chase,Hallie, and Zax go study the site where the last fought Marcus.Zax find's some pieces of Marcus.So He and Hallie build Marcus again.At first no one trust him until he Defeat's S-1 to save Elena.They all set out to defeat this army even with the F.B.I trying to take full control over all of them.But will Bringing Marcus back be a blessing or a cruse?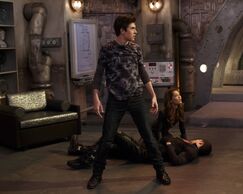 Plot
Thing's get rough Zax and Hallie return one of the lab rat's Nemesis to Help.
Cast
Billy Unger as Chase Davenport
Spencer Boldman as Adam Davenport
Kelli Berglund as Bree Davenport
Tyrel Jackson Williams as Leo Dooley
Hal Sparks as Donald Davenport
TBA as Dilli Davenport
G. Hannelius as Elena
Zendaya as Sara Davenport
TBA as Hallie King
Rahart Adams as Zax
Kyle Massey as Mark
Recurring Character
Mateus ward as Marcus
Community content is available under
CC-BY-SA
unless otherwise noted.