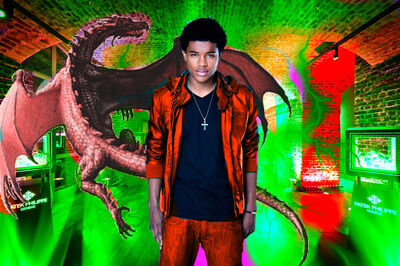 This character was created by Fire24672
Trevor Davenport is a new character to the Lab Rats series, played by Trevor Jackson. He was first seen in Mission Invisible ". He becomes friends with the Lab Rats but is really trying to catch the Lab Rats. In Bionic Showdown it was reaveled Douglas implanted bionics into him as a baby behind Logan & Donald's back 
Bionic Powers Edit
Superhuman Strength: It is revealed in Bionic Showdown that Trevor has Super Strength much like Adam' except he is easily over powered than Adam in Bionic Showdown he was able to lift and throw him and he could destroy the world into pieces and could destroy a row of 200,000000000000000000 giant robots with a single punch.
Superhuman Intelligence: It was revealed in Bro Down  He is incredibly intelligent where he is at a level where he is smart as Einstein & Chase combined and also is knowledgeable in many fields, including science, math, laws, circuitry and combat. He is also a capable strategist and he said that he made the upgraded weapons for the teams on the and a bionic team of security robots.
 Molecular Kinesis: In Concert in a Can It was revealed that Trevor can manipulate the molecules around of anything giving him a form of telekinesis. .
Fingerprint Recognition App: He can record people's fingerprints and scan an area for a specific one. 
Viewing Screen: Trevor can project a holographic screen and use it to see multiple locations. 
Hacking: Trevor can remotely hack computers. 
Fire Breath: Trevor is able to manipulate the fire in their lungs in a way that allows them to shape the exhaling of acid. He can also bursts of fire, streams of fire, spheres made of fire, etc. from the mouth
Freeze Breath: Trevor is able to manipulate energy that can manifest as ice or freezing cold in their lungs in a way that allows them to shape the exhaling of ice and cold. These shapes can include bursts, streams, spheres, or a cloud of it from the mouth.
Telescopic Vision: It was revealed in Mission: Space that Trevor can zoom his vision into seeing distant objects in a magnified scale he is also able to see vast distances, outside the atmosphere, solar-system or even galactic distances.
X-Ray Vision: It was reaveled in The Haunting of Mission Creek High  he could see through solid objects, organic matter and that allows him to pinpoint physical weaknesses to any human. .